Certified Predictive Accountant™ Course
The course consists of a case study-based series of online lectures (via Zoom), and also include (3) 1-on-1 collaborative sessions where registrants prepare the prophetic financial statements, as follows: • Revenue Statement • Balance Sheet • Statement of Cash Flows • Schedules and Reports
(3) 1-on-1 interactive sessions will be offered to each registrant as follows:

Month 1 – set up client files, importing historic data and budget setting options, including key drivers*
Month 2 – finalising budgets, actual variances, rolling forecast and other reporting, client dashboards*
Month 3 – review, Q&A and any other client scenario issues*
* Ongoing support will be supplied by Beyond Accounting Technologies (Telephone, Zoom, email etc.) at no additional cost.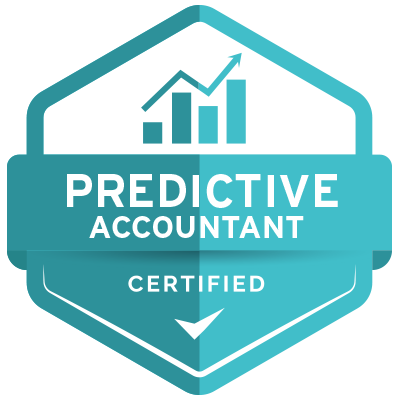 CERTIFICATION
There is an examination, which is completed and submitted online, which will include the PlanGuru file prepared during the course. Graduates will be able to use the words
Certified Predictive Accountant in their own media material, and also use the badge displayed above. Each individual graduate will be issued with a Certificate in Predictive Accounting.
---
---
Presenting during the Course:

Beyond Accounting Technologies will supply training and support services to registrants as part of the course. Beyond Accounting Technologies specializes in supporting CEO's, CFO's and accounting managers as they implement tools and methodologies in all aspects of Predictive Accounting. The key success factor is team training. "On the job" training followed by design and introduction of implementation programmes for the preferred software tool ensures rapid knowledge transfer and successful project conclusion.
---

PlanGuru will supply a special suite for the Academy of budgeting/forecasting software that provides advisors the optimal approach to build 3-way forecasts for both their simplest and most complex clients. With QuickBooks, Xero and Excel imports available, a fully structured three way model (with KPIs) can be set up in minutes. Then with 20+ prebuilt forecasting methods, debt modeling tools, and KPI predictors, you will be able to create multiple scenarios that will enable your clients to make better, more informed decisions.
Registrants for the Course receive a special package of PlanGuru which includes usage with as many installed internal licenses as they require and use on multiple clients (a savings of over $200/mo.).
---

Setting Retail Price Calculator
Setting Charge Out Rate Calculator for Trades and Manufacturing Businesses
Fee setting for Professional Firms Calculator
Price Calculator Mentoring Sessions
2 x 1 hour coaching via Zoom for an individual firm
Templates to assist in the establishment of key drivers to be utilised in the predictive accounting process
Forms to assist in communicating various aspects of the budgetary/cash flow process to clients including:

Cash Flow Calculation Chart – Retailer

Cash Flow Calculation Chart – Manufacturer

Cash Flow Calculation Chart – Professional Firm

Sales Funnel Calculation Sheet

Budgets and Cash Flow Forecast Targets

Labour Forecast – Trade/Manufacturers

Labour Forecast – Professional Firms

Stock (Inventory) Forecast

Profit and Loss Forecast Budget

Capital Expenditure Forecast

Projected Source and Application of Funds

KPIs and Ratios from Budget and Cash Flow Forecast

Bank Covenants relative to Budgets and Cash Flow Forecast

Budget and Cash Flow Forecast Report

Action Plan – Budgets and Cash Flow Forecast

Gross Profit Mark-up Chart

Manufacturers' Client Contact Form

Manufacturers' Quote Job Checklist

Manufacturers' Quotation Budget Preparation

Papers:

Setting Retail Prices (Paper 151-012)

Setting Charge out Rates for Trades (Paper 165-010)

Setting Charge out Rates for Manufacturing Businesses (Paper 170-012)

Fee Setting for Professionals (Paper 210-020)

Budgets and Cash Flow Forecast Preparation (Paper 570-037)

Business Plus Newsletter
Business Plus+ is produced monthly (February to December) with two additional editions being produced in May – "Federal Government's Budget Effects on SMEs" and "End of Year Tax Planning". Business Plus+ includes information on business development items, which will encourage your clients to use a wider range of services from your accountancy business.
Ess Biztools monthly special newsletter to our members.
Invitation to participate in:

Business Advisory Services Briefing

Monthly 30 minute Zoom conversation on "Business Advisory Services"
---